How do you increase your children's confidence while swimming on holiday?
If your child loves to swim, they will love it for the rest of their life! A summer holiday where you spend a lot of time at (and in) the pool offers the perfect opportunity to increase your children's confidence in water. In this blog we would like to give you a few tips on how you can help to have fun in the water and develop a love for swimming.

TIP: NEVER leave a child unattended in or by the pool, no matter how confident the little swimmer is.
Getting to know the water
You can't start early enough to introduce your child to the water. However, some children refuse to enter the water. The trick is not to force your child to do something they don't want to do. Entice your child to sit on the side. The next step is toes in the water. Eventually you can extend that to paddle or maybe stand in the shallow water! Take baby steps (literally) and don't overwhelm your little one!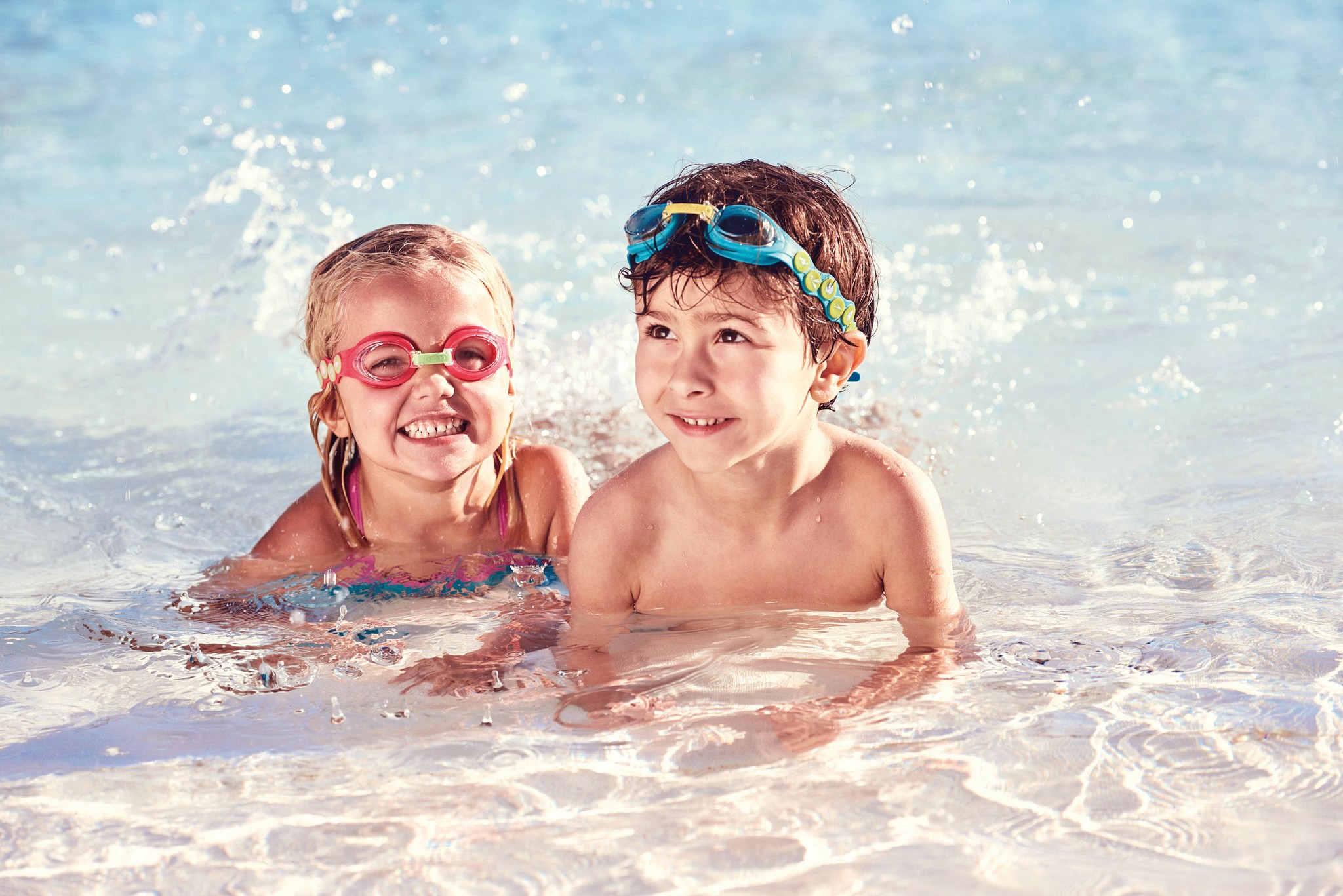 Distract from fear
Distract your child from his fear. What is the favorite game you play in the bath at home? Try to mimic that in the pool! Bring your rubber ducks or other bath toys and go play with them yourself (or have a brother/sister) enthusiastically. There is a good chance that your child would like to participate and will carefully approach you. Water pistols are of course the perfect solution for toddlers and preschoolers. Because what could be more exciting than secretly spraying someone wet. Put a supersoaker in his hands and ask to spray a willing victim! Here you can challenge your child one step further to come down a step or maybe even stand completely in the water.
Let go - float with aids
Once you've got your kid in the pool, build their confidence in the water by rocking back and forth, singing songs, and maybe making little splashes. Do not try to separate your child from you just yet. Only when you are sure that your child is ready, you can take the next step to remove your child from your arm. Thanks to aids such as wings or swimming rings, you can let your little one float safely and independently in the water. This makes the transition to going into the water independently a lot easier and more fun!
Consider these fantastic buoyancy aids
Age 0-2 years: Small babies do not have the control or stability to float in the water on their own. Is your child 1-2 years old or younger? Then consider purchasing an inflatable tire or inflatable seat, for example one like this. The advantage of this chair is that the chair is fully supported (due to the square design) and therefore does not tip over. Your child sits in a firm seat with free legs. This allows you to float around the pool with your child without missing out on all the other family fun!
Age 2-6 years: Do you have a child that is 2 years or older? Then the Speedo flotation vest is a good solution! The vest gives your child extra buoyancy around the upper body to float independently in the water. Of course you can also wear the traditional armbands on your child. You can find them here!
TIP: Don't forget to praise your child with enthusiasm as he makes progress. Never forget the power a compliment has on growing self-confidence!
Wetting the face
Even the most confident babs can find it exciting to get water in their face. If your child really hates getting splashed on their face, let alone putting their face in the water, try playing some splash games with your child before you go on holiday.Once you are on vacation, you can take further steps! For example, think of a bubble-blowing competition. Challenge your child to go one step further. Swimming goggles can make it easier for your child to put their face (close to or) in the water. For example, take a look at these glasses, especially for children aged 2 to 6 years. Grab a few colored scuba gear and the underwater viewing becomes a fantastic experience to boost confidence in and under water!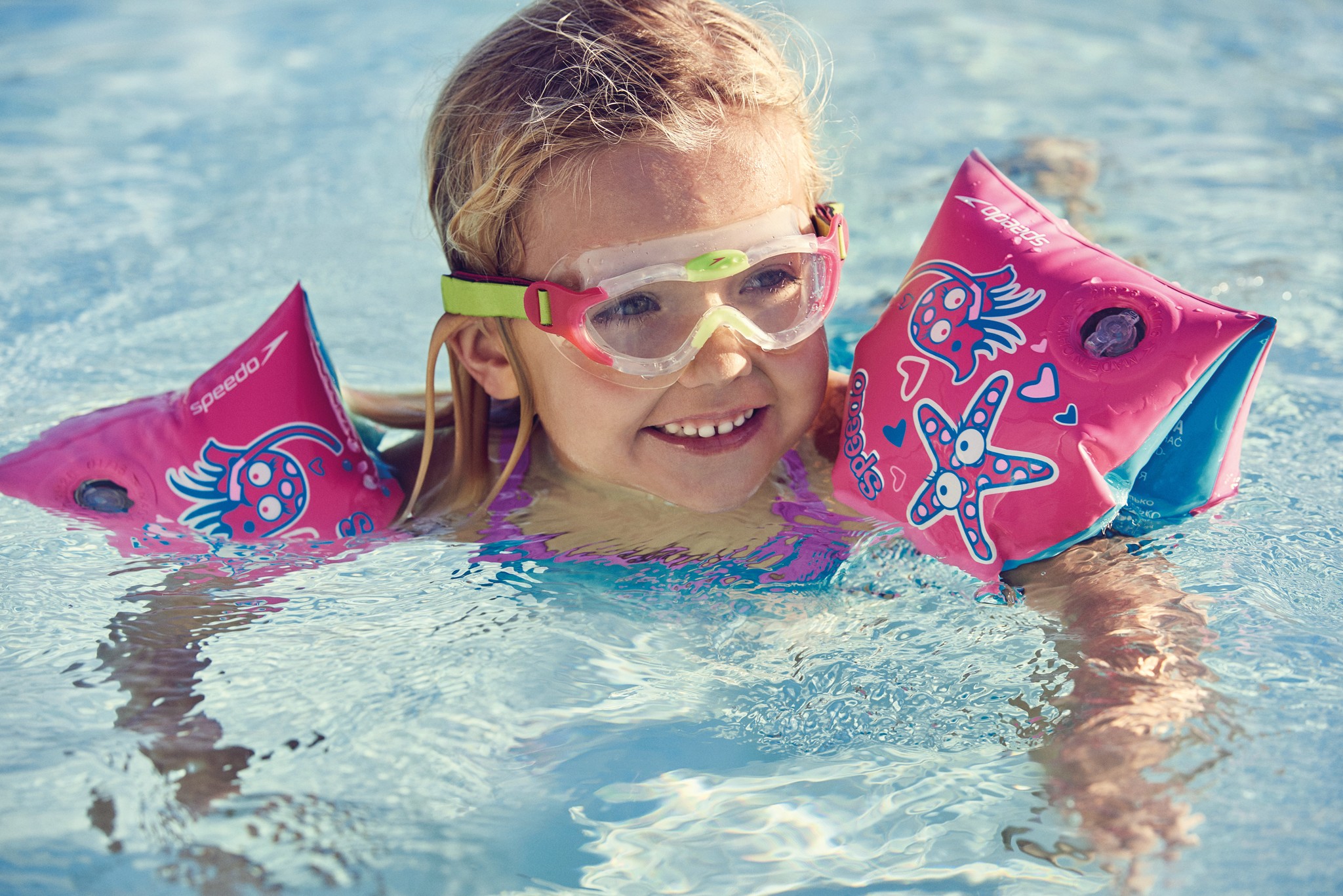 Working on your child's self-confidence can be easy and fun with various games. Preferably in the experience world that you know your child likes! Think, for example, of a Pirate competition, where treasures have to be searched throughout the swimming pool. Or, perhaps an imaginary Mermaid game that involves making dolphin moves. Hunting, racing and diving are always popular with children, and most children also enjoy playing with inflatable figures and flexibeams (foam trunks). Let your imagination run wild and enjoy the family fun to the fullest!
.